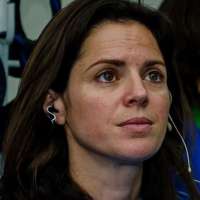 MARIANNA ARVANITAKIS
Bélgica
Marianna Arvanitakis finished her medical degree in 1997 in Brussels, Université Libre de Bruxelles, and pursued her fellowship in Internal Medicine/Gastroenterology. She has been working in the Erasme University Hospital since 2002, where she has a position of full professor since 2018. She is head of the Clinic of Pancreatology and Clinical Nutrition.
She presented a PhD thesis focused on diagnosis and treatment of pancreatic diseases in 2007. Her main clinical and research interest are pancreatic diseases, clinical nutrition, and therapeutic endoscopy. She has 118 publications in Pubmed with 3520 citations and a H-index of 28.
She has an active role in the European Society of Gastrointestinal Endoscopy (ESGE) Governing Board as the individual member representative since 2014 and as the chair of the Education Committee since 2018. She has been part of numerous ESGE guidelines and is in the Editorial Board of the journal Endoscopy. She is also member of in the UEG scientific committee since 2014 and chair of the postgraduate teaching (PGT) course. She is also an active member of the European Society of Enteral and Parenteral Nutrition (ESPEN), of the American Gastroenterology Association (AGA) and the American Society of Gastrointestinal Endoscopy (ASGE).