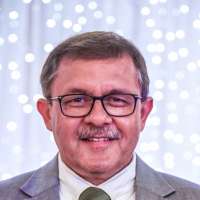 AMIT MAYDEO
Índia

Dr Amit Maydeo is a surgeon by training from the University of Mumbai, India.
After training in surgical oncology and GI Surgery, Dr Maydeo was trained at the University hospital of Hamburg, Germany under Prof. Nib Soehendra from 1986 to 1991.
Dr Maydeo is presently the Chairman of the Baldota Institute of Digestive Sciences at the Global hospital in Mumbai, India.
He has been the pioneer in Therapeutic GI Endoscopy in the Indian subcontinent over the past 30 years.
He has been the past president of the Society of GI Endoscopy of India and is presently the founder Chairman of the newly founded Association of Interventional GI Endoscopy Foundation.
Dr Maydeo has done original work on the treatment of Variceal GI bleeding, Treatment of Chronic pancreatitis and stones and Endoscopic treatment of large CBD stones.
Dr Maydeo has been the first to introduce the POEM & STER procedures for Achalasia cardia and submucosal tumors in India and the treatment of early cancers or large polyps in the colon by ESD or EMR. Dr Maydeo has also been the pioneer in Bariatric endoscopy in India and has recently launched the procedure of endoscopic sleeve Gastroplasty (ESG) in India.
He is on the International editorial board of Gastrointestinal Endoscopy (ASGE) / Endoscopy (ESGE) and is also the Co-Editor in Endoscopy International Open journal.
Dr Maydeo has received many awards over the past 27 years and in 2013 he was awarded the Padmashri which is one of the highest civilian awards for outstanding service in the field of medicine from the President of India.
Dr Maydeo has also been awarded a winner in the 1st World Cup of Endoscopy held in Chicago during the DDW.
Dr Maydeo runs the Endoscopy Gurukul in Mumbai for training young endoscopists from India and abroad.